A LOOK AT LEISURE ACTIVITIES & PURPOSE
IN OLDER ADULTS DURING THE PANDEMIC
Discover factors related to older adults' sense of meaning, their well-being, and their resilience during the pandemic. This timely study provides insight into leisure activities, social supports, and other areas that impacted older adults' well-being amid the Coronavirus pandemic. It is the first study to explore racial differences in these factors.
IN THIS RESEARCH BRIEF, YOU'LL LEARN:
activities that serve as important sources of fulfillment

coping activities related to positive outcomes

strategies that can help to enhance meaning (and thus, happiness) in older adults' lives

FROM THIS RESEARCH BRIEF
"85% of participants were able to find a way to continue participating in the activity that provided them the most meaning and fulfillment."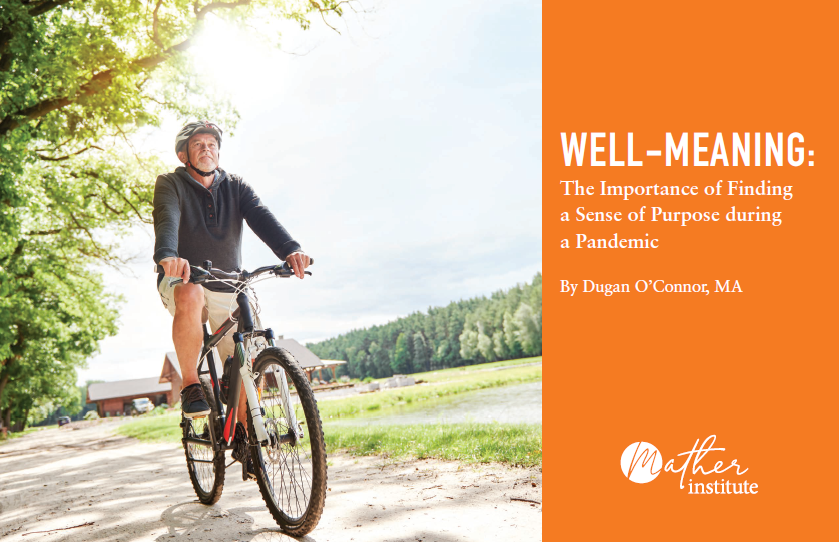 DOWNLOAD YOUR COPY OF THIS RESEARCH BRIEF:
WELL-MEANING:



THE IMPORTANCE OF FINDING A SENSE OF PURPOSE DURING A PANDEMIC
The COVID-19 pandemic and the associated restrictions had an unprecedented impact on older adults' routines, access to social supports, and stress levels. Learn some surprising details about how those 50 and better found meaning and fulfillment.